Our NGO a Ripple was founded in 2019, but we have had a decade of experiences assisting in the developing world. Some of these trips were exhilarating, some difficult, others dangerous, but all were worthwhile. We truly believe that there's NOTHING better than to help a fellow human who is in need.
Here are some of our recent past experiences::::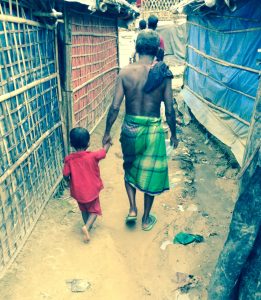 2020: COVID dominated our lives, as it did yours! A Ripple volunteered where we were. Nathan spent a lot of time trying to keep our little town in Ecuador safe thru COVID prevention strategies, practicalities and education. He installed hand washing stations, distributed mask to every person and soap to every household, and made educational flyers and videos. Suzanne got a new job working in the US with the Navajo Nation when their cases were overwhelming, and continues to work there intermittently. A Ripple also supported another Ecuadorian NGO called GRACE, who provides many services for Venezuelan refugees. We were able to provide ultrasound and ECG machines for their clinic and many Dignity Kits for the refugees.
2019: A Ripple volunteered in Kyaka II in Uganda, the second largest refugee settlement in the world at the time, in collaboration with ADRA (Adventist.. and AHA African…). Suzanne volunteered in the only hospital in the camp in the pediatric and obstetric wards and saw too many people die of the preventable and treatable disease malaria. Nathan volunteered throughout the camp teaching WASH principles and distributing water filters.
A Ripple volunteered in Laos. Suzanne taught junior doctors in a childrens hospital, seeing a lot of another mosquito-borne disease, dengue. Nathan distributed water filters in remote areas.
A Ripple volunteered in Matamoros Mexico. Due to the USA's "remain in Mexico" policy for asylum seekers, there was an urgent need for medical care and clean water on the border. Suzanne and Nathan ran a very rustic medical clinic on the sidewalk (with a table, some chairs, some medicines, and a lot of love). Nathan helped develop a system to deliver water for handwashing and showering, and of course water filtration.
2018: A Ripple volunteered in supporting and assisting Syrian refugees in the Beqaa Valley of Lebanon. Nathan worked as a WASH (Water, Sanitation, Hygiene) volunteer. Dr Suzanne was busy working in a rogue mobile clinic. As most of the doctors in the area were men, the Syrian women were very happy to be seen by a female doctor.
A Ripple volunteered in Bangladesh. Nathan's forth time in Bangladesh and Suzanne's third, this time in Cox's Bazaar. We have found Bangladesh to be one of the most difficult places on earth to assist. This particular time was to help the almost 1 million Rohingya refugees that fled ethnic violence in Myanmar.
Nathan volunteered with the distribution and installation of water filters in the Rohingya refugee city. He taught local Hope Foundation workers classes in Water, Sanitation, and Hygiene.
Dr. Suzanne worked in the Hope Foundations field hospital in the Rohingya camp, seeing patients, teaching ultrasound to the local midwives and emergency tropics to the local paramedics.
2016 and ongoing: A 7.8 magnitude earthquake rocked our home province of Manabi in 2016. In collaboration with many local and governmental organizations and independently, we worked on several projects including disaster relief, medical care for people who could not get to hospitals, distributing water filters and mosquito nets.
Suzanne has continued to teach CPR classes to local laypersons, firemen and local medical personnel. Suzanne also continues to better equip small local clinics.
Want to learn more and go back further? Please see our FB page and blogs!